I don't really know what this is or how it's done, but it looks crazy cool.
As I have mentioned, I'm making an Assassin's Creed movie. Here is a shot of me with the Assassin. This was my first cosplay and it has been extremely intensive figuring out how to craft each bit of the costume based on pictures of the 3D model and from playing Assassin's Creed II. While there were several liberties taken with exactly how things look and what materials I used were, I tried to stay pretty true to form in many ways. I would like to learn more about the process that character designers go through. For example, Ezio is from the Italian Renaissance era so research had to be done about fashion of the time, this had to be taken into account and then the outfit had to have functionality and form.
I found that many of the reference images for Ezio had subtle, but noticeable when trying to recreate, differences. For example, the differences in the belt from various source materials are featured to the right.
These are really important things to keep in mind when designing characters. There were a few things that I had to fake because there was no way for Eric to take the clothes on and off or move from the way they looked that they were created in the videogame.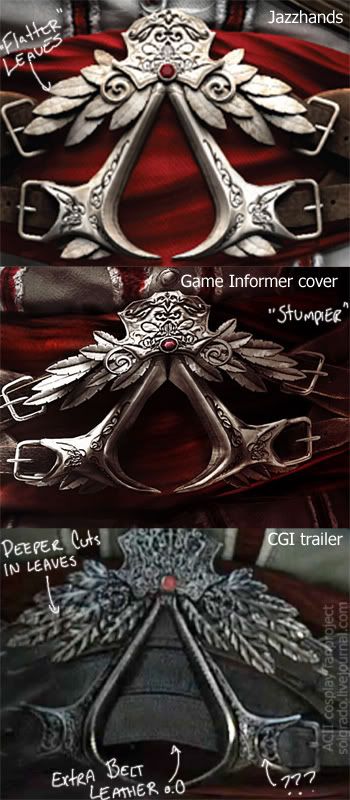 Also, every time he wears the outfit, it takes both of us to dress him and it takes at least an hour. Some of this is definitely because of faking it for functionality's sake, but it is hard to imagine that this character is really able to spend an hour + dressing himself, by himself, each day, especially when he's so busy climbing on buildings and assassinating people.
I'll let everyone know when the video is done, it was our first day of shooting on Sunday, and it went really well.